A good start to the year.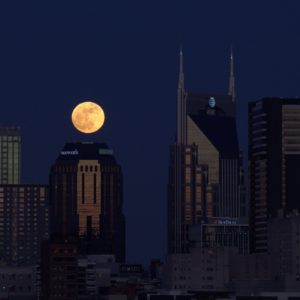 It's another freezing cold day. This morning the moon was spectacular, but I could only look at it while driving to marriage counseling this morning. At least I was able to photograph it last night. I went down to St. Thomas Midtown hospital just before sunset and was very impressed with the beauty of the scene. Unfortunately is was miserably cold. I was colder than I ever was last week in Michigan. The wind was brutal and my hands pretty much locked up. But it was worth it.
Yesterday was just about perfect from a football standpoint. The Michigan Wolverines started the day off with a defeat. I wasn't too bothered by Auburn and LSU losing, then Georgia knocked off Oklahoma. I'm very happy that the Tide won't have to play the Sooners in the championship game. And obviously Alabama took care of business against Clemson. A certain measure of revenge for last year was included. I was confident pretty much the whole game, although it was a bit of a relief when the clock ran out. The Georgia game will be pretty tough though.
It will be a real challenge to get anything done at the farm this week. Mostly because of the extreme cold, but I am also dealing with motivation issues. We are supposed to close on our loan next Monday and I am waiting to hear back on my permit for the workshop. Who knows when the foundation repair folks will come. I'm sure this cold has really thrown them off schedule.