Last day in the Great White North.
It's been a pretty busy day. I went out early to photograph the fresh snow, and took a few pictures that I rather like. My older brother-in-law and his family came around lunch time and so we spent a lot of time eating and opening presents. I was really bummed that we were doing the latter as a spectacular sunset was happening. Unfortunately I was unable to go out and photograph it. I did however go out and take some pictures after dark. The moon was nearly full and really lit up the landscape. It was below freezing but I didn't really notice the cold. I hope the pictures come out okay. Focusing and exposure can be challenging under these conditions. Afterwards I came back in and watched football with everybody else.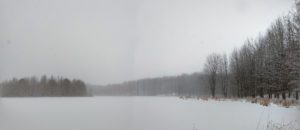 Tomorrow morning we will head back to Nashville, although I am unsure of the time. It will be nice to regain an hour and get back to work. The drive will be miserable though.