Frozen pipes and frozen nuts.
Despite lots of just sitting around and chatting, I haven't really been able to carve out much time for blogging this week. I feel like I am talking to people all day long, then at the end of the day I am so drained from conversing that I just want to sleep. My days haven't been too exciting, so it doesn't feel like there is too much to write about.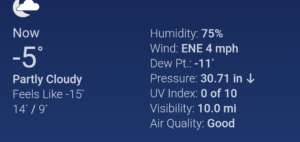 This morning I really didn't want to get out of bed, but I looked out the window and saw a little color in the sky. I drove to the back of the farm and took a few pictures. It was pretty out, but as you can see from the screenshot, the temperature was miserable. After breakfast I spent most of the rest of the day helping my father-in-law thaw out the pipes that had frozen in part of the house. We ripped out a bit of drywall and insulation. It made a mess and as much as I like my father-in-law I really don't enjoy working with him at all. I think we are done for now though.
Tonight we will probably just watch football and relax. It is supposed to snow 3-5 inches overnight.