Securing the shelter and striking out in Woodbury.
Today did not go as hoped for. Well, putting down my $5600 deposit for the foundation repair went smoothly, naturally. Money sure flows out easily. The company's office/shop was only about ten minutes from the farm, so I stopped by and dropped off the check. They aren't sure of my exact start date for the work, but hope to let me know by the end of tomorrow. I next drove into town to apply for the building permit for my workshop. I parked and reached for my renderings, only to discover that I had brought the wrong ones. Rather frustrated with myself, I headed to Lowe's in order to get a latch for the bunker. On the way back to the farm I stopped at Dollar General for a padlock.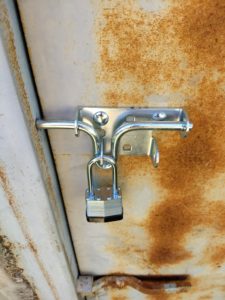 So yesterday I had the brilliant idea of turning the storm shelter into a secure tool storage area for the next few weeks. It isn't the most convenient space, but is cost effective. Unfortunately installing my newly purchased latch involved drilling through 1/4″ steel, but my trusty cordless drill was up to the task. Once the latch was on I brought out most of my tools, leaving just shovels and the like in the house. It was a tight squeeze to get my three large chests in, but I managed. There was more room inside than expected, so I am happy to have space for additional acquisitions.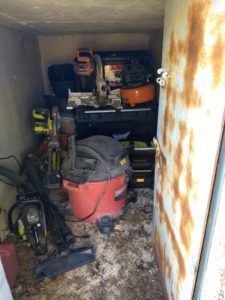 I took the scenic route over to Hwy 70 Surplus in Woodbury. It is hard to beat driving through the Tennessee countryside on a pretty day. It was only supposed to be in the mid-forties today, but it sure felt warmer. I was moving tools in my short sleeved shirt. The store had some great looking windows and doors, but unfortunately didn't have nearly enough of the ones that I had come for. As in I needed sixteen total interior doors and they had a three in the style that the wife likes. Oh well. They had some French doors and other windows she might like, but will probably need to bring her by to check them out. They also had eight foot interior doors, which could work.
I have a couple more places to check out, but don't have as high of hopes for them. One is about three hours away down in Alabama and the other is on the way there in Pulaski. I will probably head down there tomorrow. I also need to go back by the county offices and drop off the proper documents.
I left Woodbury and drove straight back to the condo. I wanted to beat rush hour traffic and did so. The rest of the day will be spent catching up on emails, searching for materials sources, and chasing my white whale AKA the tractor.