Met with the banker first thing this morning, then needed to take a shower. Just kidding. He is actually a decent guy despite his profession. We talked over all of the loan stuff and he answered a number of my questions. Now I just need to discuss everything with the wife. Hopefully she will give the thumbs up and we will go full speed ahead. My next stop was the farm. I dug a hole for a temporary power pole and got a few tools out of the house. It was pretty darn cold. From there I went to the first of five salvage yards that I would visit today. It was on the other side of Columbia. I was looking for a box off the back of a box truck or van. I want to use it for tool storage at the farm. I plan on taking the back of the house off soon and I want to secure my tools. These boxes are watertight, have good doors, and can represent a great value. The first stop had a box like I wanted, but didn't want to sell it. I went to another place in Columbia, one in Lewisburg, another in Fayetteville, and a final one in Winchester, and struck out every time. Oh well, at lest it was a lovely drive. There are some listed on Craigslist a little further away that I might check up on.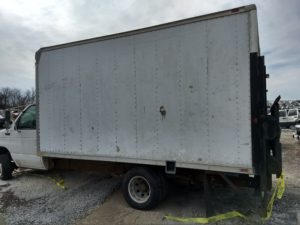 After leaving the last yard in Winchester I didn't turn around, but rather continued on up the mountain to Monteagle. That's right, back in Paradise! Only paradise is a bit freezing. But that's okay. My best friend, his wife, and their two kids are up here as well. My wife will arrive tomorrow. It has been a pretty low key evening. We had dinner at the nearby Mexican restaurant, then got a few groceries at Piggly Wiggly. I bought some egg nog, my first of the season. I love that stuff so much. Too bad it isn't healthy! We talked for about six hours after dinner, just relaxing and catching up. I hadn't seen them in close to two years. They live in South Africa and are just back in the States for a limited time. Hopefully I will be able to see them again before they return.
Now I am wiped out and will try to sleep. I want to see sunrise in the morning but Don't know if I will let the cold defeat me.