It's a heck of a roller coaster.
I've always known what an emotional roller coaster a big construction project can be. There are innumerable highs and lows. Good news pumps you up, bad news brings you crashing back to earth. I was flying high last night after my Craigslist fireplace insert discover (although the person has yet to reply to my email), then this morning I got a reality check, followed by a bit of good news this afternoon. Now I am cautiously optimistic.
So let me back up a little bit. I hit the road about 5:45 this morning and headed to the farm. Actually I went just up the road from the farm because I wanted to photograph the full moon setting. It was truly a beautiful sight. There was a soft pink glow in the sky, then the sun came up and illuminated the treeline and fields as the moon faded. It was an incredible start to the day. Cell phone pictures at the bottom of the post.
I drove on to the farm house in a very good mood. I was due to meet my dad and his contractor buddy at 7:30. The latter ran a few minutes late. He finally arrived and we showed him everything and told him the plan. He said it was bulldozer time – that this kind of house was why he does new construction. He also told us that we would have to get all of the framing in the existing house up to codes, which did mean that we were pretty much better off knocking it down. I was pretty bummed out, although I held onto a glimmer of home that he was used to Nashville and that they would be more relaxed out in "the counties". He did say that he would manage things with his crew if we wanted him to, and if we could get permits. His price was fair and we will probably get him to at least get the garage and addition under roof. But man was I shook up.
My dad and I were ready for breakfast and I felt like Chick-fil-a would be a good source of comfort. I got chicken minis, a chicken biscuit, and a large cookies and creme milkshake.  This was the least busy I have ever seen one of their restaurants. I was shocked. Not sure why it was so deserted – the food was nice and tasty, as usual. We talked things over and figured out a plan for the rest of the day. The first step of the plan was to go speak with the building permit people. The man we needed was out inspecting, but they said to call later. Next we drove around town looking at properties for sale. We are considering some projects down in Columbia. Finally we returned to the farm to get to work.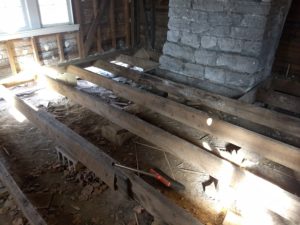 Have I mentioned what a glorious day it is? Well, I guess now I have. Sunny and close to seventy degrees. That will all change tomorrow though. Anyways, we decided to take up the wood floor in the master bedroom. It has no subfloor, and I wanted to see how the joists underneath looked. The joists looked surprisingly good, but unfortunately much of the flooring had been feasted on by termites. So we will have to cut out a lot of bad sections when we put it back down. On the bright side I have extra from the back of the house. After finishing that task we dug a hole for the temporary power pole and called it a day. I came back to the condo after stopping at the grocery store for some more comfort food. Pizza rolls and ice cream to be exact. Now I am going to finish everything I need to get the building permit. Hopefully that will happen this week.