Runnin' with the in-laws.
The wife had to go back to work today so I spent the day in-law sitting. We went up into town and visited with my parents, then we all went out for coffee at a nice spot called EiO and the Hive. EiO stands for Everything is Organic. It was a neat place with tasty muffins and classy decor. It also wan't pretentious, which I appreciate. We stayed there for a while, just talking about all sorts of things.
The in-laws and I left the coffee shop and came back over by the condo for lunch at a place called Subculture. I had been once before and enjoyed it. We ate outside because the day was so glorious. We talked a lot about the baby and they shared funny stories about their three kids. They dropped me off at the condo so I could do some work and went back to their hotel.
The wife came home a little earlier than usual because she got into work ahead of schedule this morning. And then the drama started! Okay, now I am being dramatic. So she just learned that the company she works for is getting acquired. A lot of people will lose their jobs but hers is safe. So that is a relief. But she is still shocked and processing it all. Now I am shocked and processing it all. She was happy that her parents were here so she could talk it over with all of us. Potentially there is a huge upside for her in this, but for the time being she is just a bit overwhelmed.
For dinner we all went to Del Frisco's in Brentwood. It is much a nicer place than those I normally frequent, and honestly I don't feel comfortable in such establishments. I ordered the burger because it was the cheapest thing on the menu and it was delicious. Everybody else had a salad so I felt a bit piggy.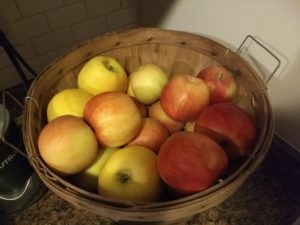 We came back to the condo and talked a bit more then said goodbye. They will hit the road fairly early tomorrow morning. Before leaving they gave us a half bushel of apples from their orchard. What a treat! It's hard to believe that in three weeks from today we will be driving up to their farm to celebrate Christmas. Hopefully the time until then will be very productive.