Well, I just went to Canon's website with the intention of buying an 80d, but they are out of stock. I'm a little bummed but honestly that is probably a good thing for the time being. I really don't need another camera even though I would like one. My opportunities for picture taking will decrease dramatically over the coming months I am sure.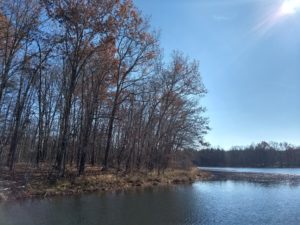 I woke up early this morning but wasn't too motivated to get out of bed. We had the motel breakfast before going to the cottage. The wife and parents and I went on a little walk to Lake Dimmick around mid-morning. It was nice to get a little exercise and the lake was pretty. Next we went to see the goats on campus. I should have at least snapped a few pictures with my phone, but I didn't. Back at the cottage I took a little nap before having a late lunch. I don't even remember what I ate.
My wife, mother, and I took my sister's dog for a walk around campus after lunch. He was well behaved and it was nice to again enjoy the beautiful weather. Of course we had to go see the goats again. The wife was happy that they were still outside and pretty close to the fence. Fortunately the dog did not scare them off. He enjoyed seeing them too. We went back to the cottage then I raced to Lake O'Donnell for sunset.
I caught the last bit of golden light hitting the trees. There were a few clouds in the sky that turned pink, so overall it was a lovely scene. It wasn't too cold, but there was a crispness in the air. It was very relaxing. I took a number of photographs although they were probably pretty similar to ones that I've already taken.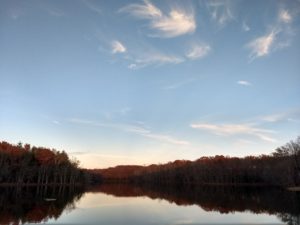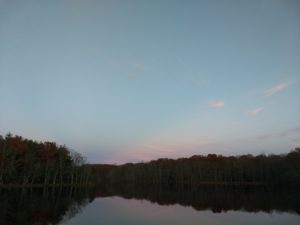 I returned to the cottage and we all just relaxed and did stuff on our phones for a bit, with the occasional bit of conversation thrown in. My sister wasn't feeling well, but everybody else went out to dinner at Papa Ron's. It is a "Steak, pasta, and pizza" place just down the road in Monteagle. My dad and I had been once before for lunch and I guess my parents have been a couple of times for dinner. I wasn't impressed. The pizza wasn't any better than Mountain Goat Market's, it took forever, and the service was abysmal. We were there an hour and a half total. The waitress  didn't come to check on us or refill our drinks a single time. I had to go talk to the hostess twice to get our drinks refilled. The waitress was very poorly trained and not very personable. I will probably write a review in Yelp.
We chilled for a little while back at the cottage, then returned to the motel. I am messing about online and writing this post. Will probably try to get up for sunrise in the morning. This is our last night at the motel – tomorrow we will go to the cottage. In the morning I need to do a few things online while I still have internet. Not sure if I will try to find a place to watch the Alabama game tomorrow or if I will just listen on the radio. This has been a nice little vacation so far.