It's my favorite holiday of the year. I got up at 5:30 so I could start enjoying it. I slept great on the king sized bed here in the motel room. We have a queen at the condo at it has always felt cramped to me. That is because I am sharing it. I have had twin sized beds or smaller pretty much my whole life, but sleeping in them alone meant that I could move around as much as I wanted to. We had already planned to get a king for the farmhouse and I am glad. The motel provides breakfast and I took advantage. It wasn't anything special but the yogurt was decent and they had raisin bran too. The biscuit was a bit lacking. I talked with the nice, older man who was working at the front desk. He lives in Tracy City.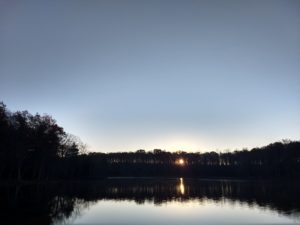 I drove to Lake O'Donnell to take a few pictures. It was super cold, although I did not help things by wearing shorts and flip flops. There wasn't a cloud in the sky so that was a little boring. I did manage to get some decent shots of reflections in the lake though. Not much color left in the trees at all. I didn't hang around for terribly long.
I came back to the motel and started looking online at the Black Friday deals. Canon is running some incredible deals on refurbished cameras and lenses, and it will take some incredible willpower to resist their siren song. That's assuming that I want to even resist. We shall see! Today should be very nice. We will go hang at the cottage shortly, then come back to the motel to watch the Lions game before going to dinner at the Sewanee Inn. It is at 3:15 which is a little awkward timing wise, but it should be great. After that I will probably try to photograph the sunset. I will probably be to stuffed to eat dinner.