Well, the Lions lost. Disappointing but not shocking. Thanksgiving dinner at the Sewanee Inn was nice, although not as tasty as I remembered. I still ate a lot. The roast beef was great, the smoked turkey a little dry, the macaroni and cheese was the best I've had in a while, the mashed potatoes were incredible, the butternut squash curry was just okay (didn't taste very squashy), the cornbread muffin was dry and sweet, the pumpkin pie was generic and mediocre, the apple crisp was delicious, and I think that covers everything. I must say that the service was rather unimpressive. Our server was nowhere to be seen for most of the meal and all of our drinks were empty. It was still a very nice meal though. Pictures of each trip to the buffet are at the bottom of the post. Full disclosure – I had a plate of fruit and second serving of apple crisp that I forgot to take pictures of.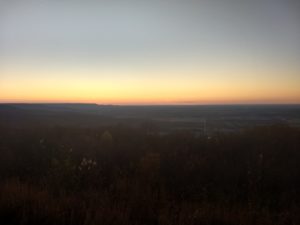 After dinner we drove to the Templeton Library for sunset. Unfortunately we were just a couple of minutes late, but it was still lovely. I brought my real camera but just took a few pictures with my phone. We returned to the cottage and talked for a while. The wife was sort of dozing off, so we came back to the motel. This was at 6:15 but it felt so much later. Now we are just chilling, she is sort of napping and I am goofing off on the internet. I am debating going out to take some star trails pictures but I will probably wait until tomorrow night. The moon will be out a little later then and will be brighter. It should be just as clear. Also I just checked the forecast and tomorrow night's low is seven degrees warmer than tonight's, so that pretty much seals the deal.
I have not yet bought a new camera (Canon 80d), although I am obsessing over it. The deal runs through the weekend, but they only have a limited number of these refurbished units, so they could run out of stock before then. This is killing me. I hate spending money, but what a deal, and what a camera! I will keep you, dear reader, informed.