Starting early, working lightly, relaxing heavily.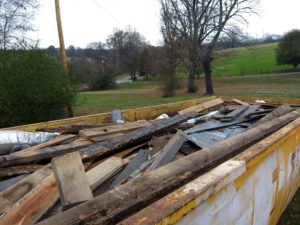 I headed to the farm early this morning, partly hoping that it would be another beautiful time for photography. Alas, it was gray and overcast. It was still nice to get working early though. My first task was to hook up the flatbed and load up all the wood from the front porch. I pulled up alongside the dumpster and unloaded it all. That pretty much filled the dumpster all the way up. I did a little more organizing around the site but wasn't feeling too motivated. Early next week I will really get things in order in anticipation of my in-laws visiting the following week.
I went to the convenience center just down the road to see if they would accept concrete block and brick. The guy said yes, so I will take a number of them next week. I took the scenic back roads into town and stopped at an equipment rental place to inquire about prices. They seem a bit expensive but the selection is good and the service is friendly. There are a number of pieces of equipment that I might need to rent in the future.
I had breakfast at Chick-fil-a, then drove back to the condo. Now I am stretched out on the couch watching football. I will probably only get up in order to get some food or go to the bathroom.