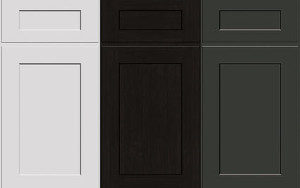 I got the quote for the cabinets last night, and am quite happy. He messed up a couple of things, and I made an error as well, but all in all the price will be right. I had him price all of the cabinets we could possibly want, and from that list we will choose which to actually select. The picture on the right shows our style, and we are the white ones. Classic and simple. I also had him price bathroom vanities, but they were pretty expensive, so we will probably look elsewhere. The wife mentioned a pedestal sink for the half bath, and I saw some cool ones for sale on Craigslist.
I am toying with the idea of adding four feet to the length of the garage apartment. Most of that space will go towards enlarging the bedroom and adding closet space, with a little more added to the kitchen for a pantry. I need to discuss this with the wife, but I think she will approve.
Today will be pretty low key. I plan on watching some football, messing with the house plans, organizing my photographs a little, and just doing some chores around the house.