A reminder that I need to lose some weight.
I got up at the crack this morning at the cottage. Unfortunately it was still super foggy, so I hit the road without going to take pictures. I took the scenic route and really enjoyed it. The sun came out about halfway through the journey and the landscape was beautiful. On the drive to the farm I was hoping to stop at some little local spot for a nice breakfast. Even some country gas stations have nice biscuits. Alas, it was not to be. I din't see anything and so had to settle for the Burger King at the interstate exit nearby.
My dad arrived not too long after I did, and brought a couple of ladders with him. We pretty much just continued our work of cleaning up the boards we want to reuse. I also removed the last of the floor from the area that we will tear down. We actually have a lot of reclaimed wood, and hopefully the wife will allow us to put it to good use. I also ripped off the last of the vinyl siding, with the exception of a couple of pieces that are blocked by the electrical meter. A wasp stung me on my hand while I was pulling one piece off, and it has swollen up a bit.
My dad and I went to Waffle House for an early lunch, although I was still pretty full from breakfast and only had hash browns. We also went downtown and I got a new copy of the subcontractors list from the building permit office. None of the names looked familiar but I will look for them on Angie's List and Home Advisor.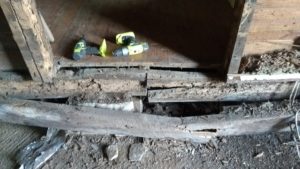 As I was tearing up the floor I was walking out of the original house and stepped on the rim joist to go into the old addition. And it snapped in two. This was a piece that had looked pretty solid. No termites but apparently it was pretty dry rotted. So the foundation is in pretty rough shape. I'm honestly not sure what is holding up that end of the house. I am not really do much else on the inside of the house until the foundation people come. It is just too risky I believe. Fortunately I am pretty much at a stopping point inside anyways.
We got some bad news from the bank today. My dad and I wanted to do a collateral swap on one of our loans in order to free up some cash for construction, but they won't let us. We are trying to think up some other ideas, but this is pretty frustrating. This is why we don't like banks and try to deal with them as little as possible.
I was feeling a little out of sorts towards the end of the day, so I decided on a little chainsaw therapy. I fired up my small saw and cut down a number of little trees around one shed that I am going to knock down shortly. I also cut them into smaller sections. Not sure if I will try to burn them or if I will find a place to haul them to. I've found that a hot enough fire can burn pretty much anything, so might at least try going that route.
I still had a lot to cut when my neighbor Russ, who I had met the other day came by. I was glad that he did because I had been wanting to talk with him more about building the garage. He was much friendlier and more relaxed this time than on our first meeting. He told me a bit about his background, which was rather interesting. Originally from Western Nebraska he used to be a solar engineer and homebuilder. He is retired now but has a little construction business. Turns out he built two other of our neighbors' houses. Hopefully we will talk again soon and I can show him my plans and get a bid. It was fully dark by the time that he left, so I just put away the tools and drove back to the condo. Traffic wasn't as bad as I expected, so I made pretty good time.
Tomorrow is going to be rather cold, so I might try to burn the junk wood that has accumulated. I have my fire pile and also another big pile to add to it. If it is not too windy then I will probably go for it. It is also tough to see myself getting going at the crack, due to the cold. I will probably wait out traffic and leave around nine. I really don't have a ton to do, and will hopefully get it knocked out in a timely manner and be able to beat traffic back to the condo.