Finally – some baby news!
It was a pretty uneventful day. I called a number of subcontractors this morning but could only get a hold of two. The first was another foundation repair company. I wanted to have a second option lined up, and they will be doing their inspection in a couple of weeks. The second was a plumbing company. He asked for drawings, and so I quickly made some new ones, scanned them, then emailed them. Hopefully he will be able to send somebody out soon to give a quote. They also do HVAC work. I will try to find and call more subs this week.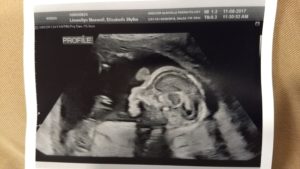 I met the wife at the doctor's office for the appointment. They actually let us in a few minutes early, which was a nice change. The first order of business was the ultrasound. The tech spent forever looking at the baby from every angle. She gave us four photos, one of which clearly shows a penis. The baby was super active and moving all around. My wife said she hadn't felt any kicking, and the lady said that the placenta was blocking the way and sort of acting as a cushion, but she ought to feel it soon as the baby gets stronger. After a very brief wait we saw the doctor. She said everything looked fantastic, which I know was a big relief for my lady. I think she has some deep rooted fear that she is going to do something to mess up the baby. We talked a little about it on the phone this evening I told her that she was doing a great job of managing everything that she can actually control. The doctor asked if we had a name picked out and we said no. She also asked about circumcision and I said yes and the wife said no. Looks like we have something to discuss.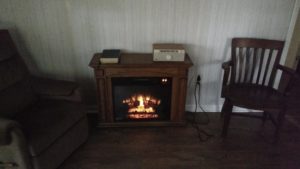 After we left the doctor's I headed up to Monteagle, with a stop at my favorite lunch buffet in Manchester. Nashville has been chilly these past couple of days, but it is even cooler up here on the mountain. Especially factoring the clouds and mistiness. It feels nice and fall-like though. One thing that I am loving here in the cottage, despite its cheesiness, is "the ambiance" as my dad calls it. It is a little electric "fake fire" that came with the place. It is designed to look like a fireplace and actually does blow out a little bit of warm air. It is kind of fun.
The wife and I talked for about an hour and a half on the phone this evening. Mostly it was about her work and some wackiness there. We also talked about the house a bit. I think that she is open to some serious cost cutting. I am feeling pretty good about the project overall. While we were talking I drove to Lake O'Donnell, but it was really too foggy to photograph. Tonight I will try to watch an episode of Hawaii Five-0 that I downloaded.