Old wood, new books, and overlooks.
Of course I would celebrate the first day of no daylight savings time by leaving the cottage at 4:45 to drive 45 minutes and hike another 20 in order to catch the sunrise at one of my favorite viewpoints. And everything went perfectly, except for the sunrise part. It was cloudy when I left, although the full moon was poking through. I knew that it could either be an amazing sunrise with all of the clouds turning pink, or everything could be grey and dreary. Unfortunately it was the latter.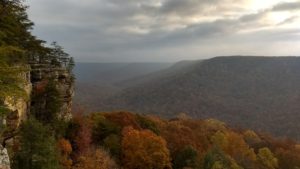 Stone Door is a fantastic spot that used to be a hidden gem but is now incredibly popular, particularly with people from Nashville as it is less than a two hour drive from the city. This beautiful fall weekend was no exception and the camper parking lot was full. I used the bathroom, signed the hiker log, and hit the trail. It is an easy one mile hike to the overlook and I traveled it quickly. As with every previous time that I've visited, it was wonderful to step out onto the rock shelf that provides amazing views over the forested canyons. A light breeze made the air feel very fresh. The leaves looked good, but not great. Dull orange was the dominate color although there was a splash of bright red here and there. I was soon joined by another guy. We talked for a bit as I took pictures. I don't remember his name, but he is from Israel although his parents are Turkish and Armenian. He grew up in Jerusalem, served in their military, and moved to Nashville ten years ago. A very interesting guy! He has also spent time in India.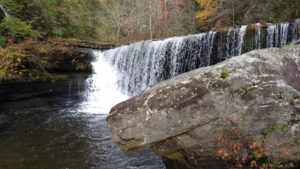 I left Stone Door and went to nearby Greeter Falls. I have been there a number of times previously. There was great flow over the falls, but the leaves weren't great. They were either still green (rhododendrons) or the leaves had already fallen off and the branches were bare. It was still a nice little hike though. On the way back to the cottage I took a slight detour in Tracy City to Grundy Lakes to see how they looked. They were pretty, but I didn't get out and take pictures.
I took a little nap because I was tired and it was still pretty early. Afterwards I finished up a book that I started on Friday – Origins, the latest by Dan Brown, author of the Da Vinci Code. I find him to be fairly obnoxious and he clearly has an axe to grind with Christianity, but he does tell a pretty good story. It was a nice bit of entertainment for the weekend.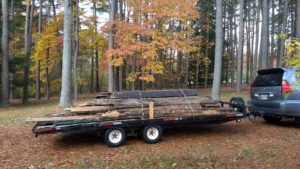 A few months ago I tore down a shed behind the cottage. I burned the rotten wood and saved the rest. It is a mixture of rough sawn barn wood and larger rafter type boards. This afternoon I loaded them onto my trailer and will be taking them to the farm house. There are lots of ways we can potentially use them. I also got a bunch of really cool old corrugated roofing metal. Not sure if the wife is creative enough to use that effectively, but we will see.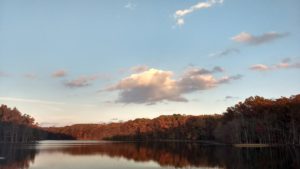 This evening I went back to Lake O'Donnell for sunset. I was surprised that some trees which were super bright and vibrant yesterday morning had turned brown in the time since. Oh well, maybe yesterday was really the peak. It was still beautiful and I took lots of pictures.
After dark I drove over to Foster Falls. I wanted to hike down to the base, but it was nine already and the gates to exit the park would get locked at ten. Also the full moon was not yet high enough to fully illuminate the falls, making photography a challenge. I settled for a few pictures from the overlook and then drove back to Lake O'Donnell. I took some photographs there, and really had a good time. The air was crisp and fresh and it was just so peaceful.
It was a pretty long day and now I am dog tired. This has been a fantastic little getaway though. I was really able to do a lot of thinking and reflecting and am feeling pretty good about life.