A picture is worth a thousand words – most of them expletives.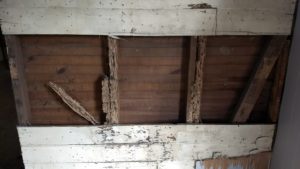 This picture doesn't do a great job of showing it, and I should have taken more, but these studs have absolutely been feasted on by termites. Glad I decided to rip off the boards running horizontally. This is the wall in the kitchen (or what is left of it) facing the back of the house. It was formerly an exterior wall before an addition was added, and I will be removing everything up to this wall prior to my addition. So I will have a lot of reconstructing to do. I needed to add studs anyways, but now I will be adding even more than expected. Oh well, I knew there would be some surprises. It looks like the termites are long gone, but I will be getting everything sprayed down just in case.
In happier tearing out news, I removed the drywall and framing around the back of the fireplace in the master bedroom, and it looks incredible! My plan is to reclad the walls with some shiplap siding that I salvaged from the shed I tore down. The other good news is that we will be able to raise the ceilings at least a foot, maybe even fifteen inches. That will help the room feel even bigger. Unfortunately when I was removing the studs from behind the fireplace a chuck of concrete they were holding up fell and punched a hole in the floor. It will be a huge pain to replace those boards.
I tried to clean everything up as best I could, because the wife will come by tomorrow to check on my progress. I think she will be pleased, but she will probably be overwhelmed as well. After touring the farmhouse we will go look at cabinets, appliances, and other building materials. Hopefully it will be a nice day out in the countryside.
I would say that the bulk of the interior demolition is done. Obviously I need to rip of the back part of the house, but I will do that later. There are a ton of nails that need to be pulled off the studs, which will be a serious pain, and I will need to drive in or pull a bunch of nails sticking out of the beaded boards. But it feels good to be done with this phase for now. I also need to pull up the floor in the back area. I am really hoping that I will be able to salvage most of it. We'll see though, they could have used a ton of nails and glue on it. I kind of doubt that though, based on how poorly the rest of that area was done.
I am feeling very happy because I will be able to reuse a bunch of materials on the garage/apartment that I am salvaging from the back of the house. These include the hot water heater, sink, tub, toilet, five windows, a door, a microwave, and maybe a dryer.
I really need to get busy on finalizing my loan stuff and getting me septic and building permits. I'm waiting on the soil scientist for the paperwork so I can submit for my septic permit, which I in turn require for the building permit. I also need to start getting bids from subcontractors. The most pressing thing is getting somebody to come check out the foundation and determine what the options are for leveling and shoring up the house. My dad is pretty nervous about the front room. Hopefully we can get everything set and it won't destroy our entire budget.
Once again I was too lazy to take pictures with my real camera. I did snap a few with my phone though, including the view from the front porch, a visitor that came by this morning, the fireplace in the living room, and the back side of the fireplace in the master bedroom.