I am currently enjoying a long weekend in Monteagle. The wife has a music festival in Franklin this weekend, so I decided to come up to the mountain where it's ten degrees cooler and the leaves are already starting to get a tinge of color. I drove up here after the doctor's appointment on Friday and have been really enjoying myself.
The weather is perfect and the scenery is amazing as well. I have been taking lots of pictures at the local lakes and drove a little further to a cave. Buggytop Cave is about a twenty minute drive followed by a two mile hike, but the payoff is well worth it. The hike is pretty easy, with only a steep and slow section at the end. The cave entrance is spectacular though – a massive, curved wall of limestone with a hole in it. And coming out of that hole – a creek! It is truly beautiful. You can walk a ways into the cave, which is quite large, but I didn't do much exploring for a couple of reasons. One, I was alone and had something happened I would have been in a bad way. The creek was very loud and would have drowned out my screams. Second, I read Tom Sawyer a bunch of times as a kid, and still think that Injun Joe is terrifying. I took a lot of pictures, but the cave presented some unique challenges, so I hope to return soon and get some better ones. Below are a few I took with my phone.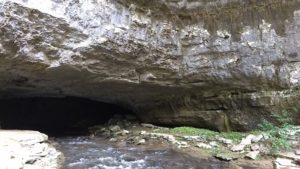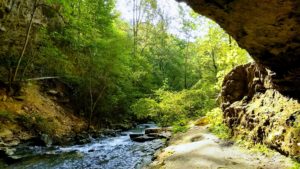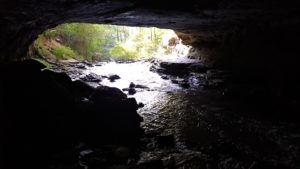 Yesterday afternoon I went for a little off-road drive. There is no television or WiFi at the cottage, and for some reason my radio wasn't getting very good reception, and I wanted to listen to the Alabama-Vandy game, at least until it turned into a massacre. So I headed for Franklin State Forest and had the game playing. There was a spot that I had visited before and I wanted to see if it would be a good place to see the sunrise. I knew that it faced generally east, but wasn't too sure how to get there. After a few miscues I was able to find it, and although the view was narrower than I remembered, it was still quite pretty. The fire pit and abundant beer cans indicated that it is a prime spot for local riff-raff, but no one was around at the time.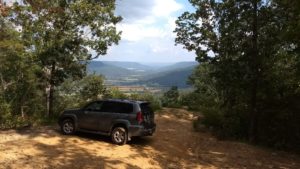 I went to Lake Dimmick and Lake O'Donnell several times for sunrise and sunset. The light was pretty good and I tried to challenge myself a little bit by not relying solely on HDR to capture the scenes. I am still sorting through, but am pretty pleased with a number of them. Below are some more phone snaps.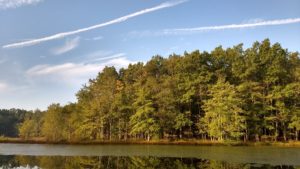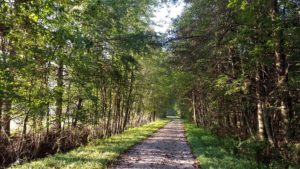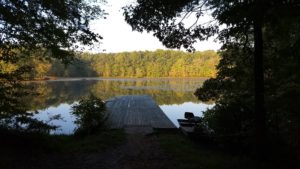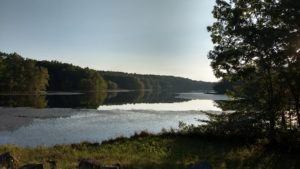 There have been a lot of stars out and not much moon, but I have been to lazy to get after it. I've done a bit of reading this weekend and a little writing too. Last night I was all excited to go to the Mountain Goat Market for dinner, but when I pulled up there was a sign on the door saying they had closed for the day at 2pm, no elaboration. I did get a good meal on my way up here though – lunch at Pappy's Country Cookin' in Manchester. I had seen it a bunch of times but never stopped. I'm glad I did. It is the perfect pig out joint with a massive selection of food that is surprisingly good. Pretty hard to beat for $8.99.
I'm not looking forward to going back to Nashville tomorrow, but such is life. It will be hot there for a few more days. I have a bit of work to do this week, so it should go fairly quickly. Not sure when I will be able to return here. I hope to spend a lot of time up here when the leaves are at their peak.