Can't wait to do it with you – Canoeing.
These posts are sort of little pep talks for myself. I'm trying to focus on the positives and think about the cool things I can/will do with my kid. Some of them will be new activities for me, others will be old favorites. Many will have strong positive memories of time spent doing them with my dad, while a few might have caused us to yell at each other. Either way it's all part of the journey.
I vividly remember the day, probably 25 years ago, that my dad and I went to buy a canoe at the local outdoors store. That event is mostly memorable because of the extended amount of time that my dad spent haggling over the price. It was a little embarrassing, but hey, he saved a hundred bucks or so and got the paddles thrown in for free. About ten years ago we loaned that canoe to a guy and I haven't seen it since. I recently told me dad we need to reacquire it and take it to the cottage. All the nearby lakes around beg for a canoe.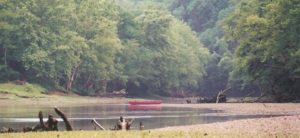 I grew up less than a mile from a nice little river that was great for relaxing canoe trips. My dad and I would run the river when I was young, then different friends and I would paddle once we got older. One buddy and I tried to go a couple of times a week in high school when the weather was nice and the water level good. We usually brought along fishing gear and pellet guns. The river was a little nasty in places with lots of trash, so we never ate anything that we caught. Sometimes we would drive to a prettier, cleaner river with better fishing opportunities.
If I can't regain the family canoe I will certainly buy another one. I have already been looking on Craigslist, although it is a few years before my son is able to paddle. I can at least get him used to riding in the middle of the boat and soaking up all the awesomeness along the river or lake. I still live only about 20 minutes from the river I grew up near, so I'm sure that Junior and I will paddle it at least once for nostalgia's sake.