I love affordable technology and from time to time I will talk about devices that I really enjoy. My "reviews" won't be very detailed or technical, they'll just highlight an item that I use regularly, and discuss the role it plays in my life. There will be some relevance to parenting, and once I start buying a bunch of baby related crap I will probably mention some of the cooler things that I use.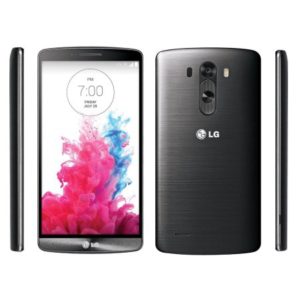 Wow, weren't you just professing your undying love for the Moto G5 Plus a couple of weeks ago? Now you're waxing poetic about another phone…WTH? Okay, okay, I have a problem. I'll probably address it tomorrow. But first let me mount a brief defense. I bought this phone for a very specific reason – to run an application that controls my camera for night photography. The app requires a certain feature (USB host capability) that is only found in newer, nicer phones. My G5 Plus has it, but I didn't want to tie up my primary phone for hours at a time, or overnight. The G3 was LG's top of the line phone three years ago, but I got a refurbished model for a mere $85! I bought it off tanga.com, which offers great products at low prices. The downside is their slow delivery. They are up front about that, but as an Amazon Prime member I am not used to waiting a long time to get my goodies.
I read a lot of reviews on this phone and also considered a Samsung Galaxy S5, a similar device from the same era at a comparable price. I bought a cheap but rugged case on Amazon since the phone will be spending a lot of time in rugged environments. The phone came with free service from FreedomPop, but I'm not sure if I will activate it. I have two devices using their service already, and it is not to impressive. I don't really need to use this as a phone, so probably won't mess with it.
On to the phone itself. In a nutshell, it's pretty good, especially when considering the price. The 5.5″ screen is the visual equivalent of a half gallon of Blue Bell chocolate chip cookie dough ice cream. That means incredible in case you are vegan, lactose intolerant, or just hate America and freedom. All of my apps look great and the phone is very fast as well. I have been using it a lot this week for reading some books I borrowed from the library and for controlling one of my cameras. One primary complaint in the reviews was limited battery life due to the large, detailed screen, but this isn't much of an issue for me most of the time since I keep the screen off when photographing and with wi-fi, Bluetooth, and the cell antennas off the battery can last for days.
There are a few frustrations for me based on my uses though. First, the sleep/wake and volume buttons are on the back side of the phone. I hate this! It makes it difficult to set the phone down without messing things up. Second, one of my camera remote apps requires having the volume set to the maximum. When I plug the dongle into the headphone jack the phone automatically turns down the volume "for my protection", and I have to readjust it. There are a lot of "nanny" features built into the phone and I need to learn how to disable them. Also, unlike my Moto G5 Plus, the G# does not run pure Android. This means that LG has added a bunch of their own programs and they can't be removed.
I have messed around a little with the camera and it takes pretty good pictures. I will probably do some comparison testing between it and the G5 Plus just for kicks. I have also loaded a bunch of music onto it and will use it as my road trip and workout boom box.
Long term durability is probably the biggest issue for me, and I won't know how it fares in that regard for a while. For the time being I like this phone okay and would recommend it to anybody that wants a cheap primary phone, a dedicated media player/e-reader, a good camera, or whatever else you might want a phone for.