Weekend Wackiness – 8/27/17
We just returned from a nice weekend at the Cottage. It is quickly becoming my happy place. We didn't arrive until almost nine on Friday evening, but I still prefer that to going up on Saturday. There is just something awesome about stepping out of the car and breathing in that fresh, cool mountain air. It was a clear night with lots of stars and chirping crickets. The wife wanted almond milk and Piggly Wiggly had just closed, so I went to Dollar General, CVS, and a gas station looking for a small thing of 2% cow's milk, but had to settle for whole.
I got up at the crack on Saturday morning and went to Lake O'Donnell over in Sewanee for sunrise. It is probably my favorite lake in the area for photography and it was glorious yesterday. The clouds really added character to the sky, and when the sun came up it cast a soft, golden light onto everything. I took a number of photographs and am happy with a few of them. While photographing I texted some college football trash talk with my brother in law. He is a Michigan fan, so kind of an idiot, but I enjoy sparring with him. I left the lake and returned to the cottage in an excellent mood.

We spent most of the rest of the day just relaxing, which is something that the cottage is perfect for. I took a great nap, did a little reading, and refilled my bird feeders. Next weekend I will take some pictures – I have three suet holders and a hummingbird feeder. Our big adventure involved driving down to Cowan for the farmers' market. Or perhaps I should say "farmers' market". This was the second time we have tried to go and both times it has been vacant. I don't know why the Sewanee paper keeps publicizing it. We also made three trips to Piggly Wiggly. She eats a ton!
Late afternoon she wanted to get a little exercise so we drove to the backside of Sewanee campus to Lake Cheston. It is a pretty little lake that often has people fishing or swimming in its clean water. The former was the case this time, as we rounded a bend on our first lap around the lake a young girl was reeling in a bluegill. She was equal parts excited and terrified. We did a second lap and then drove over to the nearby goat barn and paddock. There the university has a lot of different colored goats. My wife absolutely loves them all. She went up to the gate and one came to her almost immediately. She pet it and took a little video. I'm honestly shocked that she didn't attempt to put it in the car. The evening sunlight was getting really soft and pretty so we drove back to the lake and parked at a little different spot. I grabbed a camera and tripod and set it up next to a picnic table that was in pretty rough shape, yet strong enough to hold both of us. I experimented with taking a bunch of photos to string together into a little time lapse video. It turned out okay.
Once darkness descended we headed to our favorite dinner spot – the Mountain Goat Market in Monteagle. I'll write more about it at a later time, but it was up to its usual high standards last night. I had my standard 8″ cheese pizza, and the wife had a chicken quesadilla. Apparently preggos can't eat deli meat, so I asked if they had any other meat they could use, and they said yes, rotisserie chicken. That seemed to be a tasty success. We sat outside and enjoyed the cool mountain air until they closed at nine.
We went to bed pretty early and I struggled to sleep, probably because of my nap. Around midnight I went out on the back porch and set up a camera to photograph the stars. I took about 1200 continuous 20 second exposures and made a time lapse video and combined them to make a star trails picture. The composition is nothing special, I mainly just wanted to learn a little about the camera and the app I was using.

This morning I got up even earlier and returned to Lake Cheston. I set up two cameras for time lapses and had another to take different pictures with. While I was waiting for the sun to come up I did a bit of journaling. The sun was at my back, but when it rose it cast a glorious golden light onto the lake in front of me. I took a ton of pictures and bracketed to make some HDR images. I will probably explain HDR in a later post. Some of the pictures turned out okay.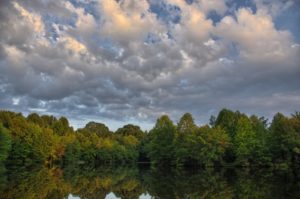 Today was another nice time of relaxing. We talked a bit about moving (this will definitely merit a detailed, emotional post in the very near future). In some ways our conversation felt like progress, but at this point I am really tired of talk and need to see some action. After cleaning up the house we hit the road. I like to drive down Highway 41 to Manchester and pick up the interstate there because it is so much more tranquil and scenic that way. The drive was uneventful and after doing a few little chores around the condo I started typing away. One of those "chores" involved setting up a couple of cameras on the balcony to take photographs of the sunset for time lapses. It is a bit of an experiment as I set up each camera differently and will see which style I prefer.